In the early twentieth century, orphans—of whom there were too many—were sent to live in orphanages. We don't do that anymore, and most of the large orphanages in our area have long since been demolished. This is an exception: it was also an old folks' home, and that function remains.
Addendum: Here is a rendering of the building the way the architect designed it, from The Builder, June, 1914: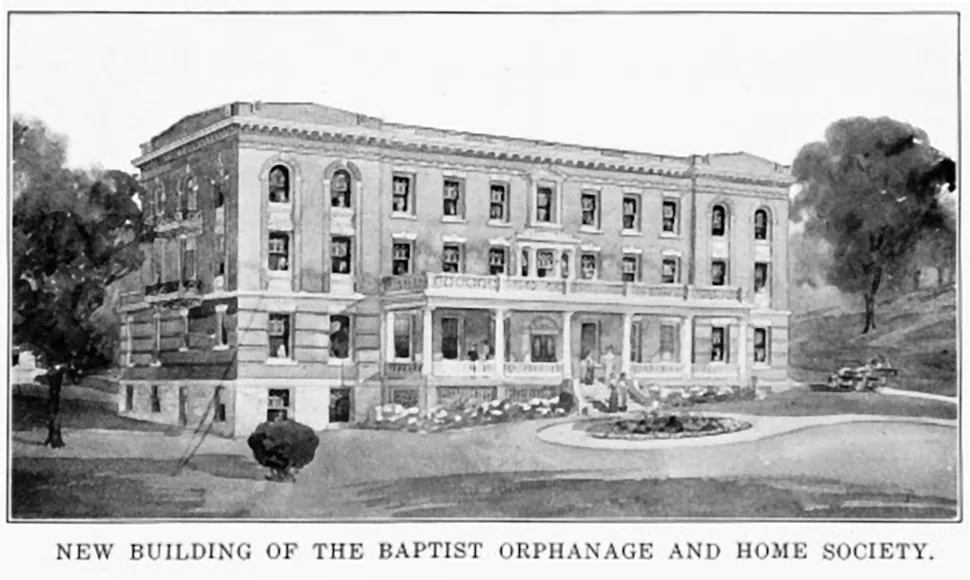 That whole issue is devoted to works of architect Thomas Hannah, whom we had already identified as the architect from the Construction Record, as you see below.
---
The original section was built in 1914, and the architect was Thomas Hannah, as we learn from the invaluable Construction Record:
November 22, 1913: "Architect Thomas Hannah, Keenan building, has plans under way for an orphanage and home for the aged to be constructed in Mt. Lebanon for the Baptist Orphanage & Home Society of Western Pennsylvania, Union Bank building. The building will contain administration offices and accommodations for about 50 persons."
May 16, 1914: "The new building for the Baptist Orphanage, to be built in Mt. Lebanon, Pittsburgh, plans for which were made by Architect Thomas Hannah, Keenan building, Pittsburgh will be a three-story and basement brick structure, 36×105 feet. It is expected that the contract for erecting same will be awarded shortly. Material specifications will include structural steel, concrete foundations, cut stone work, face brick, composition roofing, sheet metal work, concrete porch floors, interior finish of yellow pine, low pressure steam heating system, plumbing, lighting fixtures, etc."
This simple but elegantly proportioned outbuilding could also be Hannah's work.